Ghost Peppers are primarily grown in northeastern India, more specifically in the state of Assam. In the West, these scorching peppers have only been known for a couple of decades, whereas in the East, people have been using them to flavor their food and help treat various health issues for many years.
You can buy Ghost peppers at grocery and specialty grocery stores, especially Indian and Mexican ones. You can also buy them from farmers' markets, websites that sell frozen or dried varieties, and online shops operated by farmers and growers. You could also buy seeds or nursery plants online.
Finding Ghost peppers may prove a little challenging, especially if you live in an area with a relatively low demand for "exotic" food items. By following the tips in this article, you can buy Ghost peppers, in one form or another, no matter where you are.
As an Amazon Associate, I earn from qualifying purchases.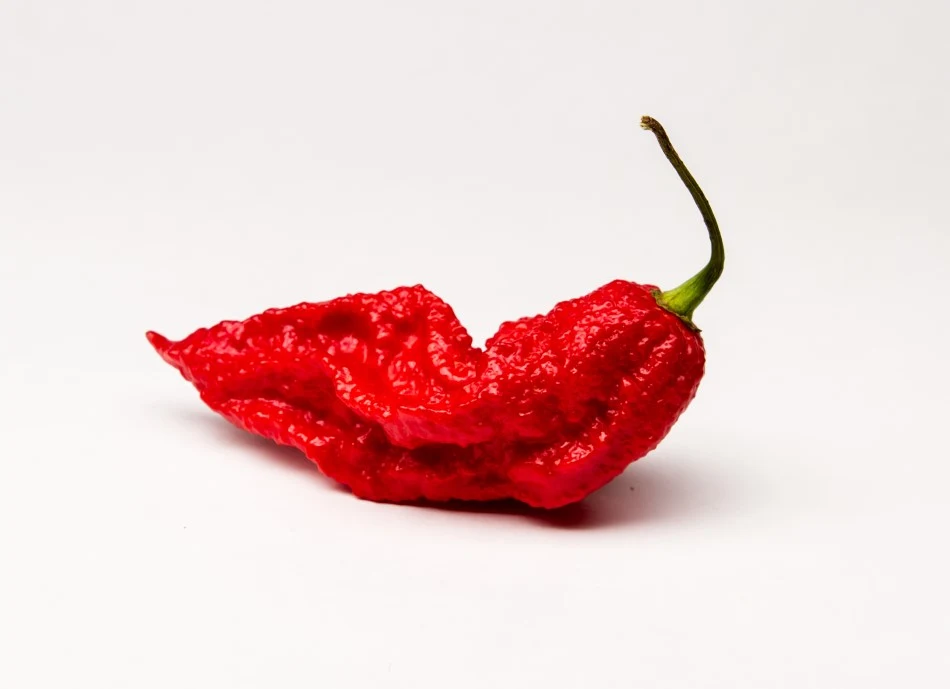 1. Grocery and Specialty Grocery Stores
Both India and Mexico are known worldwide for their rich cuisines and centuries old culinary techniques.
Indians and Mexicans share a strong appreciation for spices, which are found in most of their traditional dishes. If you are lucky to have an Indian or Mexican grocery store in your area, that is the first place you should go if you want to buy Ghost peppers.
Regular grocery stores may also stock hot peppers like Ghost peppers. However, it is unusual for large retailers like Walmart and Target to sell particularly hot varieties, mainly due to lower demand.
Home Depot and Lowe's have been known to sell Ghost pepper plants occasionally, so you may want to check your nearest branch or head to their respective websites. I know that Home Depot used to sell a pack of two Ghost pepper plants for a reasonable price, but sadly, this item has been out of stock for a while. But it's worth checking every once in a while in case they carry inventory again.
As demand for fiery pepper varieties grows, some larger supermarket chains are starting to stock Ghost Peppers.
In 2020, for instance, British supermarket chain Tesco announced that its U.K. stores would soon carry three of the world's hottest peppers, all supplied by a local chili farmer. Hopefully, some U.S.-based grocery chains will start carrying the fiery pepper in their produce departments.
2. Farmers' Markets
Farmers' markets typically carry various seasonal fruits and vegetables, including some rare varieties. If you are looking for an unusual food item not commonly found in regular supermarkets, head to your local farmers' market before you turn to the Internet.
This way, you will enjoy high quality, fresh food, all while supporting your local community. With more and more people starting to appreciate robust flavors, farmers' markets have become more diverse with their selections.
You probably won't have trouble finding medium-heat peppers such as Jalapeños and Serranos at your local farmers' market. If it's a large enough farmers' market, you may come across hotter varieties such as Thai chilis, Habaneros, and Ghost peppers.
When looking for Ghost peppers, remember that some farmers may know them as "Bhut Jolokia," which is the actual name of this variety. Although, at this point almost everyone knows them as Ghost peppers.
3. Websites that Sell Dried or Frozen Ghost Peppers
If you haven't had any luck finding Ghost peppers at grocery stores or local farmers' markets, you may want to look for websites that sell dried or frozen chilis.
On Amazon, for instance, you may get a pack of Wicked Tickle Ghost Pepper or a 2.5 oz. (28 gr.) pack of Holy Natural Blazing Fire Ghost Pepper. 
The Wicked Tickle packs contain ten whole dried seed pods, and the company provides free shipping in the United States. The Holy Natural brand is 100% pure with no additives or preservatives.
Like most super-hot peppers, Ghost peppers also come in a powdered form, which is probably the best option if you want to spice up your dishes without having chunks of peppers mixed in. Amazon sells a 2 oz. (58 gr.) bottle of Wicked Tickle Devil's Chili Powder for a very reasonable price. It's also 100% ground Ghost pepper, which ranks 1,000,000 on the Scoville Heat scale.
Several reliable e-commerce platforms also sell dried and frozen Ghost peppers.
The best thing about buying from these websites is that they are usually operated by farmers, which generally means higher-quality products and better prices—not to mention fewer intermediaries and a lower overall carbon footprint.
Here is a short, and by no means comprehensive, list of websites selling dried Ghost peppers with positive customer reviews:
Frieda's (Frieda's does not sell its products online, but you may visit its website to see if they have any shops in your area. They have shops across the U.S.)
Buying frozen Ghost peppers online is also a great idea if you cannot find fresh ones. However, keep in mind that it is far more convenient for online sellers to store and distribute dried foods than frozen ones.
If you find an e-commerce platform that sells frozen high-heat peppers, certainly give it a try, as once defrosted, your Ghost peppers taste fresher than dried ones.
4. Online Shops Operated by Farmers and Growers
These days, many people buy their fruits, vegetables, and flowering plants from online farmers and growers.
With consumers becoming increasingly curious and passionate about exotic flavors, more and more farmers are starting to diversify their inventory to boost their revenues.
Because the market for rare foods is still relatively limited, many farmers are turning to the Internet to sell their produce.
5. Shops and Websites that Sell Ghost Pepper Seeds
If you are already familiar with Ghost peppers and plan to consume them regularly, you may want to consider growing your own.
This way, you won't have to check every grocery store in your area or wait for someone to ship them to you every time you run out.
Like dried Ghost peppers, Ghost pepper seeds are not that difficult to find, provided that you do not live in a remote area. For instance, large retailers like Walmart and Home Depot carry a wide range of seeds for you to grow your own fruits, vegetables, and herbs.
Both retailers regularly stock Jalapeño seeds, but if you are lucky, you may also find fierier varieties like Ghost peppers.
If you haven't had much luck with offline retailers, do not despair: you won't have trouble finding Ghost pepper seeds online.
Many websites sell high-heat pepper seeds these days, including Amazon, Etsy, and Pepper Joe. For instance, you may purchase a pack of Gardeners Basics Ghost Pepper Bhut Jolokia Non-GMO Heirloom Seeds from Amazon.
6. Shops and Websites that Sell Nursery Ghost Pepper Plants
If you are not in the mood for gardening or do not want to wait for your seeds to germinate, a Ghost pepper plant may be for you.
Head over to your nearest plant nursery to see if you can find what you are looking for. If you are lucky enough to live close to a plant nursery that carries both common and rare pepper varieties, there is a good chance that you will be able to get your Ghost pepper plants from there.
Despite chilis being very popular, finding Ghost pepper plants online is not as easy as you would think. Many online plant nurseries appear to have run out of stock, and it is unclear if or when they will update their inventory.
Fortunately, Amazon is selling a pack of Clovers Garden Ghost Pepper Plants in two packs.
Remember, Ghost peppers have particular growing requirements and can only survive in soil temperatures of 80 to 90°F (27 to 32°C). So, unless you have a greenhouse or live somewhere very hot and humid, you'll likely have to grow your peppers inside.
You'll want to use LED grow lights and a grow tent. Make sure to fertilize the plants initially and then at least twice more while the Ghost pepper grows. It's also essential to keep the soil damp and humid.
Ghost pepper plants are not the simplest plants to grow. However, they're well worth the effort if you can get them to survive and enjoy spicing up your dishes.