A Comprehensive tasting and review
About the Last Dab Triple X
The Last Dab Triple X is the third iteration of the Last Dab, which has been a fan favorite of the YouTube show Hot Ones, hosted by Sean Evans (For anyone not acquainted with the show, it's basically an interview show with a different celebrity in each episode who is forced to answer questions as they eat spicy wings (or vegetarian alternatives) that get progressively more spicy). This hot sauce's name comes from the tradition of adding a little extra dab of hot sauce to the final wing.
The Last Dab made its debut in 2017 for season four of Hot Ones. This was also the debut and the reveal party for the new horticultural creation of Ed Currie, Pepper X. The Last Dab Triple X only made its debut in season 10 (learn more about its history below).
Reactions to The Last Dab Triple X have been positive. It is an extremely spicy hot sauce so a small amount, or dab, goes pretty far. It is one of those sauces where there is a tipping point: add a little and you enjoy a very spicy but manageable burn, but add too much and your mouth becomes overwhelmed and a physiological overload begins to take place.
The Last Dab Triple X review ratings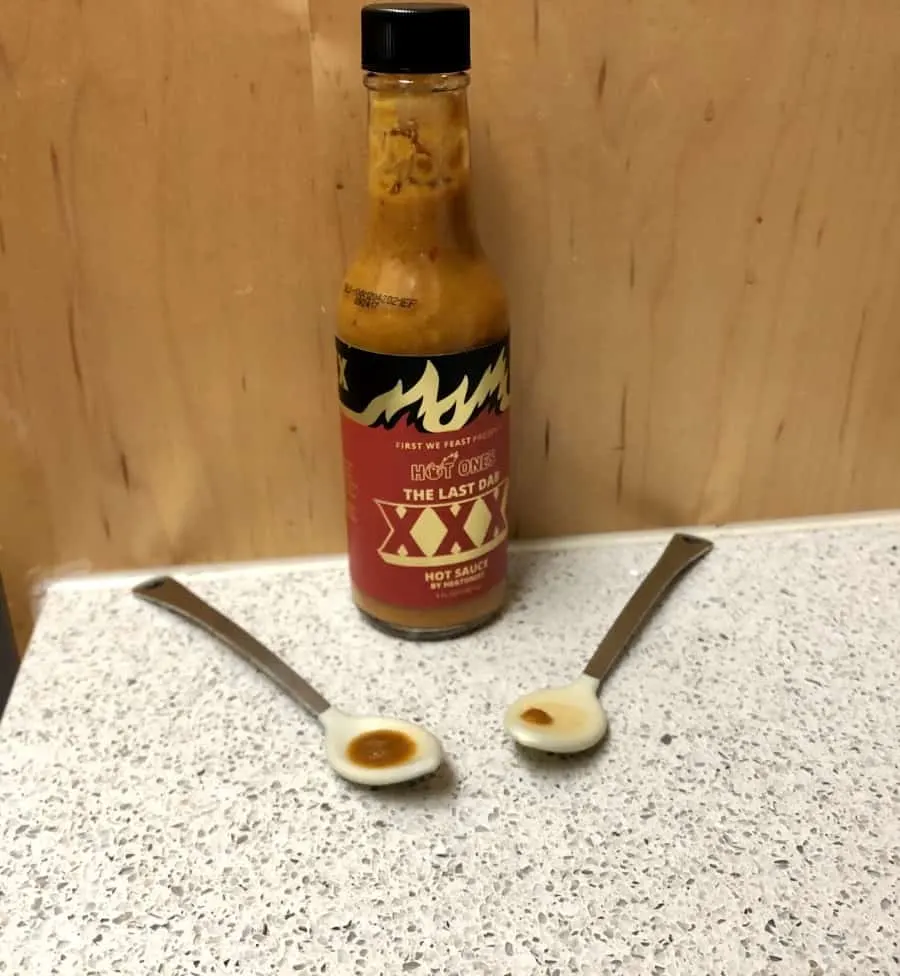 Heat: 5/5 – Extremely spicy without the chemical burn of pepper extract-based hot sauces.
Flavor: 3/5 – Pleasant flavor, but this sauce is mostly about the heat.
Value: 4/5 – A little goes a long way so it will last you a long time.
Versatility: 3/5 – It is extremely hot so maybe not something you would use daily, but it does work well with a wide variety of foods.
Overall: 4/5 – I really enjoyed this hot sauce, solid 4 out of 5. I do wish it were a little saltier, but as an extremely spicy hot sauce without the use of extract, it's a great addition to your hot sauce collection.
Ratings deep dive and detailed review
Heat – 5/5
I have to say that this hot sauce was not as scary as I thought it would be. When you see the 2 million+ Scoville units, you know that they are not messing around! The fact that the sauce does not use any extract clearly comes through as you feel the heat and a burn, but not the choking nasty pain that a pepper extract-based hot sauce generally brings. The warmth of the heat moves across your tongue before it moves to the back of your throat. At no point was the pain unbearable; rather it was a delicious strong burn as the hot sauce made its way to my stomach.
Flavor – 3/5
This hot sauce packs the heat, without losing the flavor. At over 2 million Scoville units, I was expecting to taste the fire, but was pleasantly surprised by the flavor that accompanied the heat. The cumin and ginger flavors come through quite clearly, which makes this hot sauce delicious and not all about the heat. However, I did wish that it were a bit saltier and packed in a bit more flavor.
Value – 4/5
At $20+, this sauce sits in the higher dollar-value spectrum. However, a little amount goes a long way, so although you might pay a bit more for it, it will last you a while.
Versatility – 3/5
The flavor profile allows for this sauce to be quite versatile and a good addition to anyone's hot sauce collection. So far, I have added dabs of it to eggs, ramen, potatoes, and a few other foods with enjoyable results. I can envision creating some marinades for chicken and meats as well as adding it to pasta sauces for an additional kick. It is quite spicy, so a little bit does go a long way. It might take a few tries to get the right proportion needed for a marinade!
Other Characteristics
Consistency
The hot sauce is thick and chunky, requiring a few smacks on the back of the bottle to get out. Definitely shake well before use! The reason why it is so thick is because the sauce's mash is made up of 93 percent peppers, with only the remaining 7 percent consisting of vinegar and spices.
Color
The color is a solid orange with some intermittent flakes of red.
Smell
The last dab has a pleasant, tangy, chili smell. When I opened the bottle and took my first sniff, I was immediately reminded of a home-made hot sauce I made years ago with habaneros and vinegar. I knew by the smell alone that this was going to be tasty!
Bottle Aesthetic
The bottle features the iconic Hot Ones logo of the fire-breathing chicken. The bottle's labeling is done well, consisting of red, black, and gold accents. Looking at it you can tell it is something special with the shimmering gold Triple X and flames. Only downside of the gold is that it makes it a little hard to read the ingredients and nutrition facts. But honestly, who is buying a hot sauce to read those, unless you are a spicy nut like me!
Another detail I love about this hot sauce is the name – the Tripe X not only provides a warning of how hot this sauce is, but also alludes to the fact that it is created using three different types of X peppers, which is a nice added detail.
The Last Dab Triple X Ingredients
Pepper X
Chocolate pepper X
Peach pepper X
Distilled vinegar
Ginger root
Turmeric
Coriander
Cumin
Dry mustard
The Last Dab Triple X history
As mentioned earlier, the Last Dab Triple X is the third iteration of The Last Dab, which made its debut in season four of Hot Ones, presented by First we Feast, which originally aired in 2017. It was developed with the help of Smokin' Ed Currie and the Heatonist. The goal was to create the number 10 sauce for the show that was hotter than the rest but without the help of pepper extracts. One of the reasons the creators did not want to use extracts was to try and develop something with extremely high Scoville units, but that also tasted good.
It was the coming out party of Ed Currie's new pepper at the time, Pepper X. The hot sauce was originally not available publicly on the market and only available to guests of Hot Ones.
The Last Dab featured in seasons four and five. It was then replaced by the Last Dab Reduxx for seasons six through nine, which was finally replaced by the Last Dab Triple X which made its debut in season 10.
The differences between each iteration of the Last Dab hot sauces are the varieties of Pepper X being used. The original only had Pepper X, Reduxx had Pepper X and Chocolate Pepper X, and Triple X uses Pepper X, Chocolate Pepper X, and Peach Pepper X. All editions have been described to have similar taste and heat profiles. Some say Reduxx was slightly hotter than the original and Triple X is almost identical to Reduxx. Unfortunately, we have not been able to purchase the first two editions of the Last Dab hot sauce to do our own taste comparisons.
What is Pepper X?
Pepper X is a creation of Ed Currie out in Rock Hill, South Carolina. Ed Currie and his company Puckerbutt Pepper Company are world famous for creating the hottest peppers on the planet. His previous record holder, the Carolina Reaper, has an average of 1,569,300 Scoville units.
In a Today article highlighting Pepper X, Currie gave some background on his latest creation. Currie originally was looking to create a pepper with specific cancer fighting, sub-capsinoids. Sub-capsinoids are substances found in chili peppers that are chemically similar in structure to capsaicin, the compound that gives chili peppers their heat.
Through crossbreeding various peppers, he said, "Our geneticists believe we stumbled upon the right mixture of genes to increase capsaicin production." The pepper took over 10 years to cultivate and comes in a variety of colors ranging from yellow, orange, off-green, and chocolatey brown.
At this time, Currie has not disclosed which peppers were crossbred to create Pepper X. We can speculate, based upon its similarly gnarled blistered appearance to the Carolina Reaper, similar pepper species may have been used. The Carolina Reaper was created through crossbreeding a La Soufriere pepper from St. Vincent and a Naga Viper pepper from Pakistan.
Currie did say in a Hot Ones interview, "When we started the cross there were two peppers I really loved the flavor of but neither of them were going to be hot enough for my taste."
Unofficially, Pepper X is stated to have a Scoville unit rating of 3,180,000, which is twice as hot as the Carolina Reaper and well over 500 times hotter than the hottest jalapeños. Pepper X is unofficially the world's new hottest pepper, beating out Dragon's Breath, although it has not yet been proclaimed as such by Guinness World Records.
Other Hot Sauce Products Presented by First We Feast
Hot Ones | The Classic – 1,800 Scoville units
Hot Ones | Los Calientes – 36,000 Scoville units
Hot Ones | Los Calientes Rojo – 49,000 Scoville units
Hot Ones | Brain Burner – 112,000 Scoville units
Hot Ones | Eye of the Scorpion – undisclosed
Hot Ones | The Constrictor – undisclosed, some say in the millions
Hot Ones | The Last Dab (Reaper Edition) – 2,000,000+ Scoville units
Hot Ones | The Last Dab Triple X – 2,000,000+ Scoville units
Where you can buy it
As with all Hot Ones hot sauces the Last Dab Triple X can be found at their partner's website and store, Heatonist. Sometimes Heatonist runs out of stock of their most popular hot sauces. When that happens, you can find them available from third party sellers on Amazon but unfortunately at higher prices.
Final Thoughts
The Last Dab will go down in hot sauce history as one of the most recognizable hot sauces on the market. Great tasting and hot as hell without the assistance of harsh tasting pepper extracts. Pepper X is an amazingly spicy pepper that all spice-heads should taste at least once.