A comprehensive tasting and review
About Da Bomb Beyond Insanity Hot Sauce
Da Bomb Beyond Insanity is arguably one of the most infamous hot sauces out there. The hot sauce has gained worldwide fame largely thanks to the YouTube show Hot Ones hosted by Sean Evans and produced by First We Feast and Complex Media.
Da Bomb made its debut in season two of the show, which originally aired at the tail-end of 2015. Fans of the show know all too well, if an interviewee makes it to the 8th hot sauce in the line-up, they are about to have their world shaken and turned upside down.
Reactions vary between breathlessness, bloodshot eyes, eye-watering pain, to throwing in the towel and chugging unimaginable quantities of whatever liquid is within reach in hopes of squashing the searing pain.
As much as the Hot Ones show made Da Bomb Beyond Insanity hot sauce famous, Hot Ones owes some level of credit to this hot sauce for making the show famous.
Da Bomb Beyond Insanity review ratings
Heat: 5/5 – almost unbearably spicy and slightly tortuous
Flavor: 1/5 – Heavy notes of smokey chipotle with a little tang from the orange juice concentrate
Value: 1/5 – Prices are not too expensive for a 4 oz bottle but you most likely will never use it more than once
Versatility: 1/5 – Not much versality, works well for having spice eating competitions with friends.
Overall: 1/5 – The only reason we are giving this hot sauce even a one out of five is because it is as advertised, it is beyond insanity… to try it more than once. Even its manufacturer describes it as "the hot sauce that everyone loves to hate."
Ratings deep dive and detailed review
Heat – 5/5
Da Bomb Beyond Insanity hot sauce is freaking hot!
We've had our fair share of hot sauces over the years, but the heat from Da Bomb is in a category of its own. At 135,000 Scoville units, we did not expect this hot sauce to hit us hard, but it slapped us in the mouth instantly. The sauce tastes hotter than its printed Scoville units due to the heavy dose of pepper extract. The heat first attacks your tongue, before moving to the back of your throat making it a little difficult to breath. After 2 to 3 minutes, the heat climbs from your throat to the front of your mouth. I could have sworn at one point during the tasting the roof of my mouth started to swell. All this time, your mouth continues to salivate, to try and protect itself from the pain, as your eyes water and your nose runs.
After about 5 to 7 minutes, the heat begins to dissipate from your mouth but continues to burn in the belly. For about 30 minutes after, you may experience spicy burps, hiccups, and possible heart burn. If you have a sensitive stomach this hot sauce could cause nausea.
Before you dare to try Da Bomb, we recommend making sure that you have milk, water, yogurt or some combination of all three along with Tums ready to help mitigate the pain you will feel in your mouth and throat, as well as to sooth the heart burn that might also result. Try a small drop first, for 99 percent of folks out there that will be more than enough.
Flavor – 1/5
The flavor is gross to say the least. We are not fans of the pepper extract, which makes the sauce taste like you are ingesting chemicals. The hot sauce has a blunt smokey chipotle base, which is so heavy that we could not really taste much of the habanero. There is a fleeting bit of tang from the orange juice concentrate but even that is overwhelmed by the chipotle.
The poor flavor is quickly superseded by the all-encompassing heat that Da Bomb is notorious for. There are so many hot sauces I'd reach for before grabbing Da Bomb.  
Value – 1/5
The hot sauce is not too expensive, with prices generally ranging between $10 and $20 for a 4oz bottle. However, you most likely will only try it once or twice before it expires. So, spending over $10 for something you may only try a few teaspoons of is not a great value.
Versatility – 1/5
Due to it is heavy smokey chipotle flavor with chemically tainted overtones we cannot think of many foods this would go well with. You might be able to add a small drop to a big batch of something to add a kick of spice, but we would be nervous its unpleasant flavor would ruin whatever you were adding it too. Realistically, Da Bomb Beyond Insanity is really only good for gag gifts or for challenging boastful friends to try something that could bring them to their knees with spicy agony.
Other Characteristics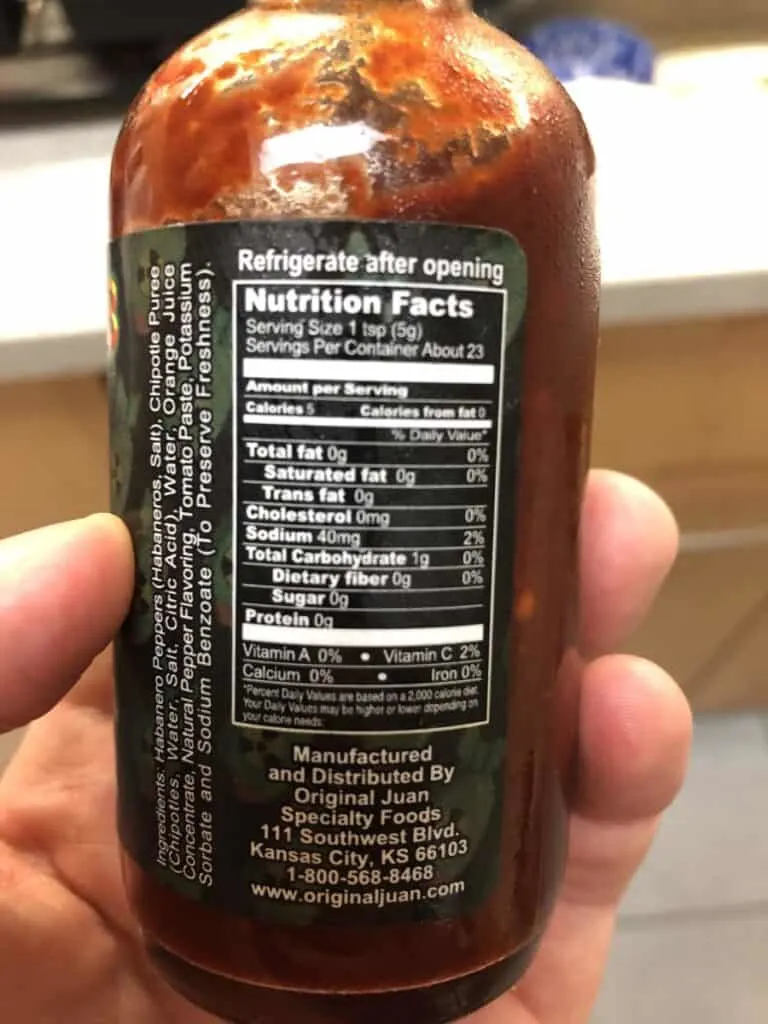 Consistency
The hot sauce has a thick ooze-like consistency that does not look very appetizing. If you leave it in your fridge for a while you will probably need to let it thaw out for 10-15 minutes before consuming, otherwise you will have a tough time getting it out of the bottle.
Color
The color is a deep brownish red, a bit like old rust. Not very appetizing.
Smell
All we could smell was smokey chipotle with a faint hint of citrus.
Bottle Aesthetic
The bottle artwork is basic, it is an illustration of a fat boy nuclear war head with a red nose cone pointing downwards as it falls in front of a backdrop of fire. We think the warhead symbolizes the drop of hot sauce that is about to blow up your digestive track, but that is just our humble interpretation.
Da Bomb's Ingredients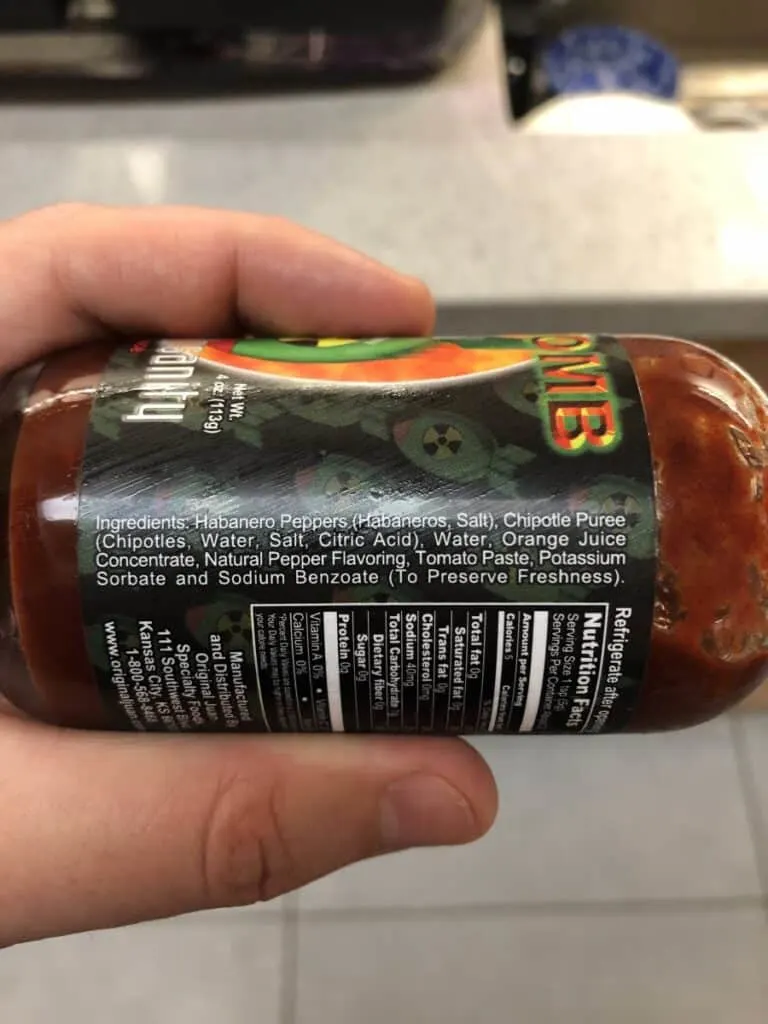 Habanero peppers (habaneros, salt)
Chipotle purée (chipotles, water, salt, citric acid)
Water
Orange juice concentrate
Natural pepper flavoring
Tomato paste
Potassium sorbate and sodium benzoate (to preserve freshness).
Da Bomb's history
Da Bomb Beyond Insanity hot sauce's history is hard to uncover and the manufacturer Spicin Foods doesn't provide much detail on its origin story.
We do know the hot sauce started to get famous around the end of 2015-early 2016 when it was featured on the Hot Ones show. Since its first appearance on episode one of season two featuring New Orleans rapper Curren$y, it continues to be included in the number 8 spot on the show's hot sauce line-up.
Da Bomb is produced by Spicin Foods located in Kansas City, Kansas. Spicin Foods is a food manufacturer that specializes in sauces, salsas, and drink mixes.
The company was founded as Original Juan by Joe Polo and his partners. They began producing sauces and salsas in 1999 and the company quickly grew. In 2002, three years after the company's founding, the company had to scale up from a 5,000 sq. ft. to a 60,000 sq. ft facility.
By 2002, the company had 13 brands covering 150 specialty food products. In 2009, the company navigated through the recession by expanding their business into co-packing and private label partnerships. In September 2016, the company started the process of putting itself up for sale.
Sadly, Joe Polo died in October 2017, and his wife, Christine Polo helped complete the sale process. In 2018 the company was sold to Scott Morse, a Jacksonville, Florida businessman, and was renamed Spicin Foods.
The company currently serves 24 countries and produces 10,000 product units daily, including over 750 types of hot sauces.
Other Da Bomb Products
Spicin foods makes 9 different Da Bomb offerings ranging from hot sauces, salsas, and flavored nuts. See below for a full list of their painful Da Bomb line of products.
Hot sauces
Da Bomb Beyond Insanity – 135,000 Scoville units
Da Bomb Ghost Pepper Hot Sauce – 22,800 Scoville units
Da Bomb Ground Zero Hot Sauce – 321,900 Scoville units
Da Bomb The Final Answer Hot Sauce – 1,500,000 Scoville units
Salsas
Da Bomb Ghost Pepper Salsa – 5,810 Scoville units
Da Bomb Green Habanero Salsa Verde (not listed)
Da Bomb Scorpion Garlic Salsa (not listed)
Other
Da Bomb Ghost Pepper Nuts
Da Bomb The Final Answer collectible hot sauce with display case
Where you can buy it
If you have not been put off by this review and would still like to buy some of this hot sauce, you can buy it from Spicin foods directly, Amazon, Walmart.com, or at your local, boutique hot sauce store.
Final Thoughts
Da Bomb Beyond Insanity if survived, is a hot sauce that is impossible to forget. It is the type of hot sauce you will compare all others to when ranking spice levels. Nothing we have tried prior and since has had the kick it does. If you are a spice-head, you need to try this hot sauce just to say you have tasted it. If you like hot sauces but do not want to have a life altering, potentially scarring experience, you might want to give it a pass.