If you're thinking of growing vegetables at home, peppers are a great candidate for you.  This is especially true if you live in cities or don't have outdoor space, since there are a wide variety of peppers that will happily grow in containers in whatever space you have available.
Peppers are a great option when it comes to plants that can be grown in containers. A small 3-gallon container can grow small, hot chili peppers, while a large 5-gallon container can grow bell peppers. A medium-sized container will let you grow some medium-sized chilis, like Habaneros or Jalapeños.
In this article we will examine 20 different varieties of peppers that are great options for growing in containers. We will explore their flavors, uses, and what you will need to plant and harvest them on your own.
1. Yolo Wonder
Yolo Wonders are a type of bell pepper, that when fully ripened, are a beautiful bright red color that will give you a satisfying blend of crunch and sweetness. These can be used fresh, making for a delicious snack or addition to a summer salad. Additionally, these are a great choice if you would prefer a variety that is good for stuffing and baking. Each pepper is approximately 4 x 4 inches when mature.
The plant itself is fairly compact, usually measuring between two and three feet tall and taking up to one to two feet of space horizontally. From the time they germinate, they will need about 70-80 days in order to grow fully and be ready to pick. Since this is a larger variety of pepper, you will need a pot that is on the bigger side. A container that allows for 5 gallons of growing space will be sufficient.
2. Keystone Resistant Giant
Here we have another variety of bell pepper that starts off as green and will reach a bright red color by the time it fully matures. This one can grow slightly larger than the Yolo Wonder, with a mature size of around 4 -5 inches. It has similar uses, with a similar thick skin that makes for a great crunchy snack when raw or a satisfying stuffing option.
Like the Yolo Wonder, it will take around 75-80 days to be ready to harvest. It will also need a large container. The height of this plant is between 2 and 2.5 feet, with its width being less than one foot. 
3. Canape Pepper
The Canape Pepper is a general term used to describe the type of pepper most commonly used in the canape appetizer dish. It is a bell pepper that can be easily roasted and will give a sweet and delicious taste to the namesake dish.
These peppers can be picked when red or yellow. This type of harvest should be available to you around the 80-day mark. Since these are typical-sized bell peppers, around 4 – 5 inches, they will need a large container to grow comfortably. Be sure to find a container that will hold at least five gallons.
4. Red Cherry
These small, round red peppers will typically only measure 1 – 1.5 inches in diameter. They are a smaller type of chili pepper but give an irresistible sweet-tart taste as well as just a bit of spice. These can make delicious, bite-sized stuffed peppers with a kick or can be cut into slices and used raw in salads or as a snack.
These can also be found in a spicier variety, so be sure to check if you have purchased spicy or sweet seeds to avoid any surprises when harvesting and eating. Red cherry peppers will take about 100 days to harvest and can be grown in a medium-sized container with about 4-5 gallons of capacity. Their unique round shape will make them a fun addition to any pepper garden.
5. Jalapeño
These famous medium-sized peppers are perfect for bringing some spice to any dish. These are commonly used for spicy toppings, perhaps on a sandwich or a Southwestern style salsa. You will often see green Jalapeño peppers, but they will turn red eventually if left growing and ripening on the plant.
Jalapeño peppers will typically measure between 2 – 3.5 inches when fully grown and can sometimes grow a bit bigger. The plant itself will grow to be about two to three feet high. You can use a slightly smaller container with a 4-5-gallon capacity for this medium-sized pepper.
To grow Jalapeños on your own, you will need to give them 70 – 85 days to be ready to harvest. You might notice some slight cracks in the outer skin of your peppers, which means they are ready to be picked and enjoyed. For a more comprehensive guide on growing Jalapeño peppers, check out this post.
6. Fat 'N Sassy
The Fat 'N Sassy pepper is, as the name describes, a plump bell pepper that will give a sweet taste, whether stuffed or served raw. These can be picked while they are still green or when they are fully matured and bright red. When fully grown, they will measure about 4 – 5 inches.
Like the other bell pepper varieties we have seen above, this plant will reach about two to three feet and requires a large container for planting, at least five gallons. You will be ready to harvest your Fat 'N Sassy peppers about 65 days after planting.
7. Early Thickset
The Early Thickset is another variety of sweet bell pepper that grows well in a container. When mature, these will be around 4 – 5 inches long, similar to the other bell pepper varieties we have seen. They have a sweet taste without any hint of spice and can be used for just about any purpose: stuffing, snacking, or as a topping.
Early Thickset peppers will also go from green to red and take about 55 – 68 days before they are ready to be harvested. This pepper is one of the quicker growing varieties and would make a good choice if you are anxiously awaiting the arrival of your first harvest. For these bell peppers, a large container of at least five gallons is a good choice. The plant itself is a bit smaller than that of the average bell pepper plant, measuring about 1.5 – 2 feet tall, making it a good choice for smaller spaces.
8. Shishito Pepper
This popular chili pepper gives a bit of spice without being overwhelming. They are typically served while still green but will turn red if left growing on the plant. Their appearance is unique in that the outer skin is gently wrinkled in appearance. They are small and slender peppers, measuring about 2 – 4 inches in length.
In general, these peppers are about 100 times less spicy than a Jalapeño, but every once in a while, you might get one that is significantly hotter. These little peppers are often served cooked and as appetizers, seared in oil and topped with a bit of salt. Additionally, they can be stuffed or fried.
The plant itself will reach about two feet tall and can be grown in a medium-sized container that can hold 4 – 5 gallons. It's possible that they can be picked in about six weeks if given full sunlight, but they may take a bit longer depending on conditions.
9. Poblano Pepper
Most popular in Mexican Cuisine, this chili pepper will start off dark green in color and turn to a deep red or brown. These are mild peppers and will typically measure about 4 inches in length. These are commonly used for stuffing and can also be found dried under the name "Ancho Chilis." Mexico's famous Mole sauce using these peppers as a base ingredient.
The Poblano pepper plant will reach about two feet high and can be grown in a medium-sized container. These pepper usually take about 65 days until they are ready to harvest. If they appear a deep purple color, that means they are not ready to be harvested yet.
10. Bulgarian Carrot Pepper
At first glance, it is easy to mistake this pepper for a carrot due to its bright orange color and long shape. However, one bite into this pepper would confirm it is definitely not a carrot, but a pretty spicy chili pepper! These peppers have a wide range of spice, with the mildest varieties being similar to Jalapeño peppers. The hottest ones can be far spicier, so be careful with this unique chili!
These peppers grow to about 3 – 4 inches long when matured and can be grown in a medium-sized container. They are commonly used for pickling and roasting and can typically be harvested after 70 – 80 days.
11. Fushimi Pepper
With their long, green appearance, they might look like other hot peppers. However, these are actually not a spicy variety of peppers and are considered sweet. Because of their mild taste, they are often used in place of bell peppers in salads and sandwiches or for stuffing.
These peppers are thin but long, measuring about 5 – 6 inches. They may look similar to cayenne peppers but do not carry any of the heat that a cayenne would. These are best planted in a larger container with at least five gallons of capacity. They will take about 70 – 80 days until they are ready to harvest.
12. Devil's Tongue Pepper
This little pepper is typically bright yellow or yellow-orange in color and is intense in heat. It is one of the hotter peppers you can try, with heat around that of a Habanero. It will only grow to be about 3 inches long and is a bit wrinkly in its appearance. Typical uses include salsa-making, but it is often dried and crushed to make chili powder.
It's possible to grow this pepper in a small container with at least three gallons of capacity. The plant is about 2 – 2.5 feet tall and will be ready for harvesting after 90 days. As with all hot peppers, be careful when handling this pepper as the oils can burn the skin.
13. Bolivian Rainbow Pepper
A Bolivian pepper plant will be one of the most beautiful in your container garden due to the many colors the peppers might come in. You may have some purple, others red, and some yellow- and orange-colored pods as well. But don't let their beauty fool you—these small peppers are spicy and can be anywhere from four to twelve times as spicy as a Jalapeño.
These are considered ornamental peppers but can be used if considerable spice is needed for a sauce or salsa. The peppers themselves are only about an inch long, and typically the plants will reach about 2 – 3 feet in height. They can be grown in small containers with at least a 3-gallon capacity. They should be ready to harvest after about 90 days.
14. Goat Horn Pepper
These long, slender red peppers will grow to about 5 – 6 inches in length and may taste sweet at first bite, but their mild heat is quick to follow. The Goat Horn pepper is a gentle spicy variety that is great to dry out and use for your own homemade hot pepper flakes.
These should be grown in a large container, and the plants will grow to be around 1.5 – 2 feet tall. They will be ready to harvest after around 85 days. Goat Horn peppers will start off a dark green color but are best picked and used when they have turned bright red.
15. NuMex Twilight Peppers
NuMex Twilight peppers are another variety of colorful, eye-catching ornamental peppers. Like the Bolivian Rainbow pepper, these small peppers come in a wide variety of colors on a single plant. They are also quite spicy, anywhere from 4 to 20 times as spicy as a Jalapeño pepper. They are only about an inch long and can be dried, pickled, or even used in salsa for those not afraid of a little spice.
The NuMex Twilight pepper plants will grow to be about two feet in height and can be grown in a small container. You will be able to pick some of these spicy little peppers in about 85 days.
16. Yellow Jalapeños
These small, 3-inch yellow peppers are a nice option for toppings or stuffing. They can be grilled, roasted, or eaten raw and will give you a bit of spice without being overwhelming. This bright yellow variety makes for an eye-catching little pepper.
Yellow Jalapeños are usually ready for harvest in as short as 65 days after germination. The plants will be about two feet tall and can be grown in a medium container. These peppers are considered ornamental peppers due to their beautiful color but are not as spicy as some of the other ornamental varieties we have seen so far. If you're looking for some color without too much spice, this is a good choice for you.
17. Chile De Arbol
You will usually see these chilis when they have reached their bright red color, with a length of 2 – 3 inches. They are slender little chilis, and their skin will often appear wrinkled. They are quite spicy, with about six times the spice of Jalapeño peppers. They can be used in small quantities in salsas and sauces and can also be dried to make chili powder.
These peppers are usually ready to be harvested in about 75 – 85 days, and the plants can reach up to 3 – 4 feet tall. A large container is best suited for this type of chili pepper.
18. Cayenne Peppers
Cayenne peppers are one of the more famous varieties of hot chili peppers. They are small, slender peppers, measuring about 2 – 5 inches long. Although most commonly used as a powder or as flakes, Cayenne peppers can also be great when used fresh to add a bit of spice o any dish.
These peppers can be grown in medium-sized containers, and they should be ready to pick after about 70 days. If you want the full flavor and spice that the Cayenne has to offer, be sure to wait until they have turned red in color before harvesting. Be sure to check out this guide for more information on how to grow Cayenne peppers.
19. Habanero Peppers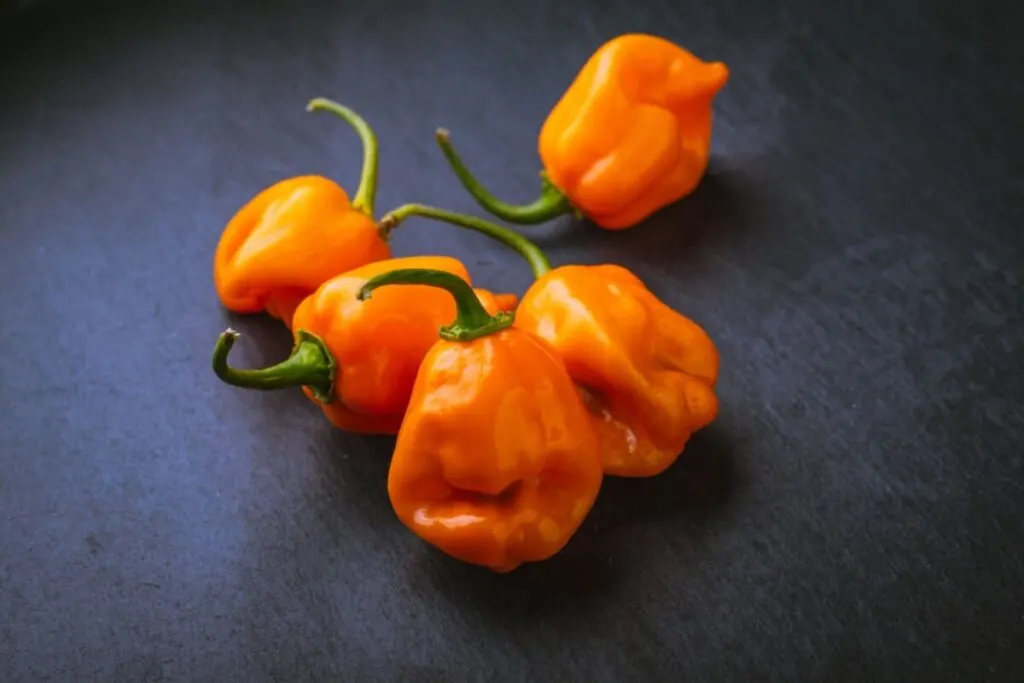 These little chilis, about 1 – 3 inches long, can be up to 140 times spicier than a Jalapeño. This pepper is extremely popular for use in different sauces and seasonings due to its citrusy and smoky taste that come along with its heat.
Habanero peppers will often be harvested when they are bright orange in color, usually after about 75 – 90 days. You can use a medium-sized container to grow these spicy little chilis. Be careful when handling this variety after harvesting as they can cause some serious burn to your skin! Check out this comprehensive guide if you want to learn more about growing your own Habanero peppers.
20. Sweet Tangerine Dream
These peppers come in a beautiful orange color and are perfect for use in the kitchen. They are a sweet pepper, not spicy like many of the other ornamental peppers we have seen. You can easily chop these up and add these sweet crunchy delights to a salad or sandwich.
The Sweet Tangerine Dream peppers have a similar appearance to the hot chilis we have seen, as they are only about three inches long and are not as plump as bell peppers. These should be ready to harvest after about 70 days and can be grown in medium-sized containers. The plants themselves should reach about 1.5 feet in height.
Closing Thoughts
No matter your preferences or space restrictions, you are sure to find a few varieties of peppers here that spark your interest. Growing, harvesting, and finally tasting your very own peppers is an exciting journey, and we wish you the best as you get started with one of these varieties.
Here are Some of my Favorite Gardening Products and Tools
Thank you for reading this article. I hope you found it helpful for growing some new plants in your home or garden. Here are some products I like that I hope you'll also find helpful. These are affiliate links, and I am compensated for referring traffic. But in all honesty, these are the exact product that I use or recommend to everyone.
Soil: For high-quality soil, I really like Fox Farm Ocean Forest. I do all my growing in containers and this soil has worked great for me. I like how they use nutrient-rich contents like earthworm castings, bat guano, and composted crab and fish.
Fertilizer: Currently I am using a seaweed-based organic fertilizer call Neptunes Harvest. This is a great milder fertilizer option if you want to use something organic. If you want a more powerful fertilizer, I recommend Fox Farm Liquid Nutrient Trio, lots of people have had great growing success with this product.
Pruning Shears: Pruning shears are one of the most useful gardening tools to have because it's important to prune your plants to keep them healthy. The pruning shears I recommend are the Gonicc 8'' pruning shears. I like them because they are built sturdy and work both on bigger and smaller plants, so you don't need to have multiple pruning shears.
spicytrio.com is a participant in the Amazon Services LLC Associates Program, an affiliate advertising program designed to provide a means for sites to earn advertising fees by advertising and linking to Amazon.com. spicytrio.com also participates in affiliate programs with other sites. spicytrio.com is compensated for referring traffic and business to these companies.